So, in my last article—Dating 101 for the Single Dad (and the Woman Who Wants Him)—I gave the lowdown on dating as a single father.
The good news is that dating a single father is probably the best romantic and practical reason you'll ever make as a single woman. Here's why:
1. WE KNOW WE AIN'T THAT IMPORTANT—WE PUT OTHERS FIRST
If there is one thing that fatherhood teaches us, it's that the world doesn't revolve around us. It revolves around dance class, singing class, birthday parties, two-person dance contests on Saturday nights, and—most importantly—ensuring that the most important person in our world (our kid) is healthy, happy and well taken cared of.
While some single guys haven't had to worry about nobody but themselves, we single dads have had to put the needs of others above our own for quite some time. So when we get into a relationship with a good woman, you better believe we will put her needs before ours. Doing this alone makes us happy!
2. WE AIN'T AFRAID OF COMMITMENT
Just because as divorcés we've been through a relationship storm before doesn't mean we don't want that same delicious, fuzzy feeling again. As dads, we love family. And it would feel like there is something missing in your life when you are a single parent—a significant other to share your life with, to have picnics with, to go to the trampoline park together with your kid with.
And if you're a single dad with a daughter, you'd want someone who can help you to comb her hair, tie ponytails, and make sure her outfit matches.
You won't want to play games; you would want a good woman to build a solid life with.
3. WE CAN BE A CLOWN, OR A DISCIPLINARIAN, OR AN ADULT, OR A KID—WE CAN FIT IN JUST ABOUT ANY SITUATION
Raising a kid teaches us single dads that there is a time and place for everything. Sure, we can be silly, fun and carefree (95% of the time); but we also do put our feet down and get serious now and then to make sure our kids don't grow up to be reckless or inconsiderate.
We are a responsible lot, too—we have no choice but to be so; responsibility and maturity (as well as a large dose of humor) is something that all single women look for (I think).
As a father, you have to navigate many social settings. We can go from wearing a suit at a work event one night, to wearing a chicken suit at a birthday party the next day, to a boys night out a few days later, to offering advice to a friend going through a situation we've already faced.
So if you bring us to an event where we know no one, you don't have to worry about us. We know how to adapt. As a bonus, we're gonna be really good with your parents. After all, we're a parent, too.
4. WE AIN'T STARING AT OUR PHONES WHEN WE ARE WITH YOU—WE LOVE OUR FACE-TIME WITH ANOTHER GROWN-UP
Don't get me wrong. Personally, I love my conversations with my kid. I still find toilet humor funny. I enjoy talking about the latest happenings at school, singing the latest teeny-bopper pop hits, and dancing the Floss together at night.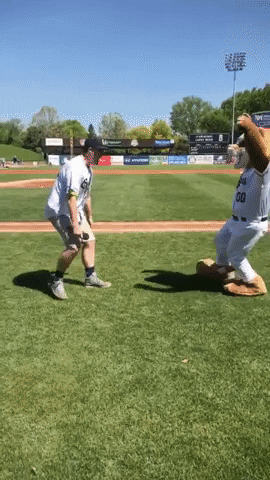 But I do miss adult conversations.
So when you want to talk to me, I will relish it. I won't be staring at my phone, flipping through Facebook or Instagram. I'll be taking in every word you speak, enjoy learning about your thoughts and beliefs, and laughing along to your jokes (as well as my own bad ones).
We single dads also know how to have a fun time with any situation. Most of us don't care what anyone else thinks of us—except the only important person standing next to us. You know how many times I've acted like a clown and danced silly while getting stared at by "normal" adults?
I didn't care, because my little girl's face was lit with a smile.
We are carefree, and we just want to have a good time with the one we love—to hell what everyone else thinks about us!
5. WE AIN'T TOO PROUD OR TOO MANLY TO SHOW OUR FEELINGS, AND WE SURE AIN'T A MAMA'S BOY NO MORE
We cry when our kid does a performance because we are so proud. We are strong when our kid is sad about something that happened at school, or when they are struggling with a friend who said something that hurt them. When a little boy makes fun of or bullies our kid, we show up to show with a tight T-shirt, flex our muscles, give the evil eye, and put the fear of God in that kid.
Simply put, we aren't afraid to show our feelings. We know how to share what we feel in a constructive way, and we know how to comfort someone when they are feeling less than great. We aren't afraid of difficult conversations about relationships—how much harder can that be versus when your kid tells you she has a crush on a boy?
Comparatively speaking, relationship conversations with another woman are a walk in the park. We are emotionally equipped. (Well, more than your average never-been-married-or-a-dad dude anyway…)
I also hear this from many of my single female friends and colleagues that are dating: a lot of grown-ass men are still mama's boys who need someone to take care of them.
Well, ladies, you ain't gotta worry about that with a single dad. For a lot of us, on the weekend we are a mom, a dad, a chauffeur, a dance partner, a comedian, a teacher, a cook, a maid, and a hairstylist.
So, relax—we know how to take care of ourselves. And we'll definitely know how to take care of another woman.
6. BONUS: A LUCKY GIRL WILL GET AN AMAZING CHILD (OR THREE) IN THEIR LIFE (FOR FREE!)
Kids are an amazing gift of life. (At least, mine is.) They are cute, smart, precocious, and loads of fun. BatDad, for example, makes the Internet (and the world at large) a better place, and he wouldn't be BatDad if he wasn't a…dad:
So, the lucky woman who is in it for the long haul will get to be an important part of our child's life as well. And there is nothing in the world more fun and rewarding than that!
---
About Mr. B
Mr. B is a man in his late 30s from the West. He has been working and living in Malaysia since 2010. Proud winner of Best Dad In The World since 2009.
For more articles like these, read 4 Important Life Skills My Mom Taught Me That Still Matter Today, and Malaysian Girls, Here's 5 Reasons Why Dating a Gamer Isn't so Bad.